Career Advice, Job Search Tips, HR News and Issues, Workforce Planning, and More!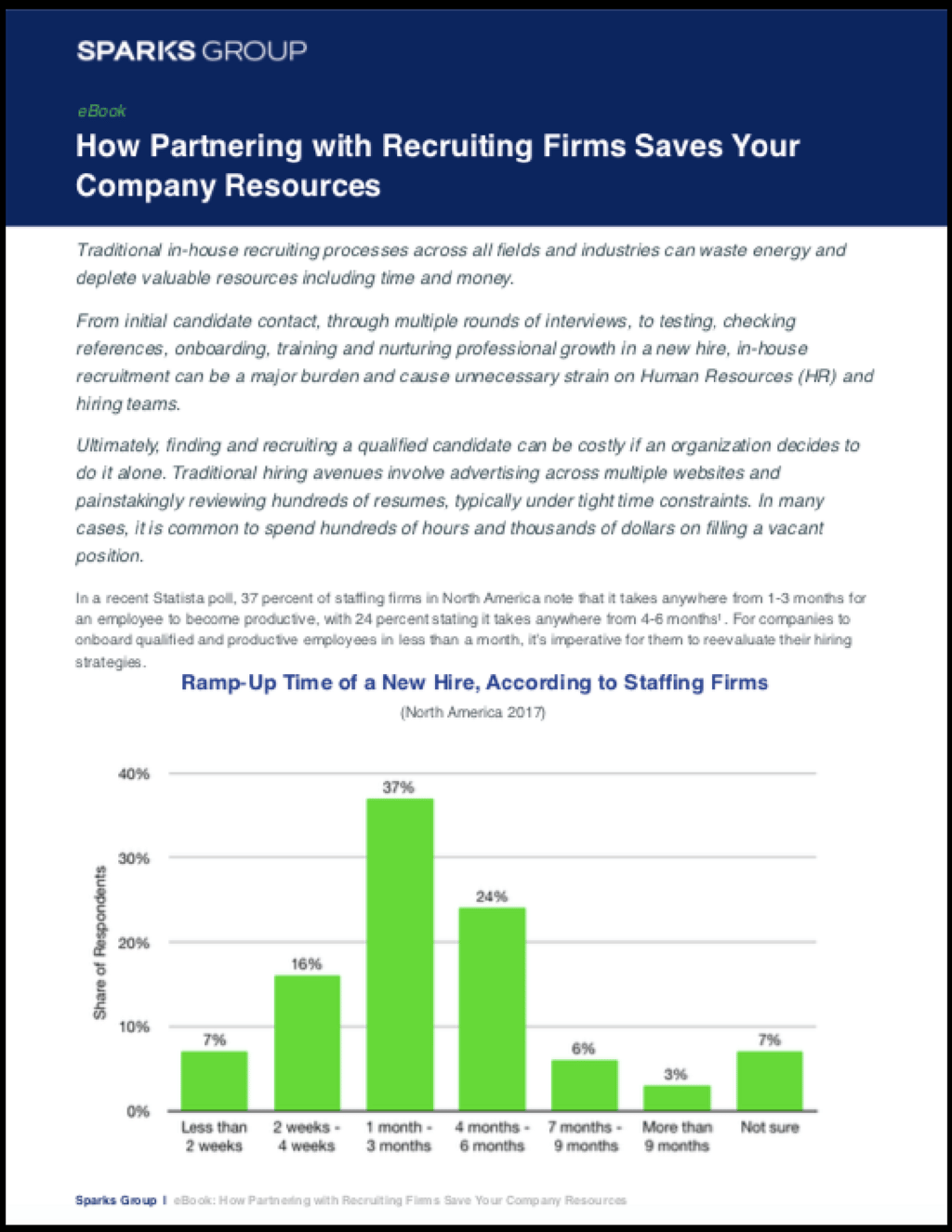 eBook: How Partnering with Recruiting Firms Saves Your Company Resources
Between recruiting, interviewing, onboarding, and training new employees, the process is both time-consuming and expensive. More companies find that by leveraging the expertise of staffing and recruiting firms, they can eliminate the hours and expenses associated with the in-house recruitment processes.
In this eBook you'll learn how partnering with a recruiting firm can:
Reduce budget associated with recruiting

- reallocate your recruiting budgets to other areas of the business that need assistance
Free up valuable time for HR departments

- focus on core initiatives that drive company value
Fill vacant positions in various departments

- provide your firm with a pool of experienced and highly-qualified talent
Accelerate the onboarding process

- reduce employee turnover and increase retention rates improving long-term return on investment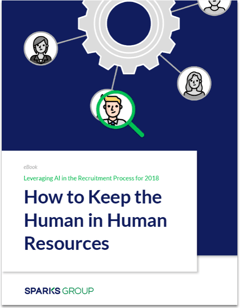 eBook: How to Keep the Human in Human Resources for 2018: Leveraging AI for the Recruitment Process
Updated for 2018! Even with advancements in artificial intelligence for talent acquisition, recruitment will always require a human touch.
In this eBook you will learn:
4 essential reasons why human recruiters must be used alongside AI technology

How to leverage augmented intelligence in the hiring process

How to spot and manage biased data from AI
Download our free eBook and learn how your company can leverage the powers of artificial intelligence in recruiting, while still keeping the human touch intact to engage and hire top talent.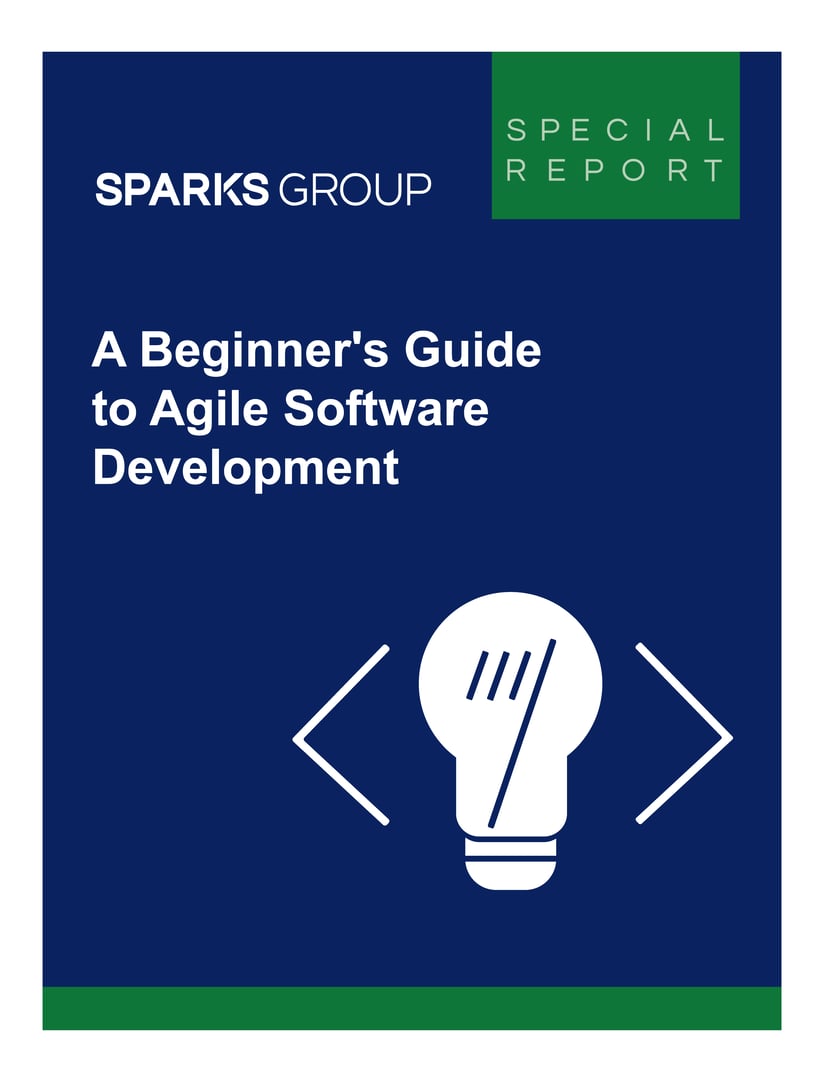 A Beginner's Guide to Agile Software Development [Free eBook]
Download our free report to learn how Agile Methodology helps increase transparency, facilitates greater collaboration between stakeholders, and enables greater efficiency in the software development lifecycle. In this free report you will learn:
The history of Agile Methodology
The differences between Agile and Waterfall Methodologies for their structure/approach, implementation styles, characteristics, and benefits.
Step-by-step guide and best practices for implementing Agile
Some of the different methods and subsets of Agile, including Scrum, XP, Kanban, and Crystal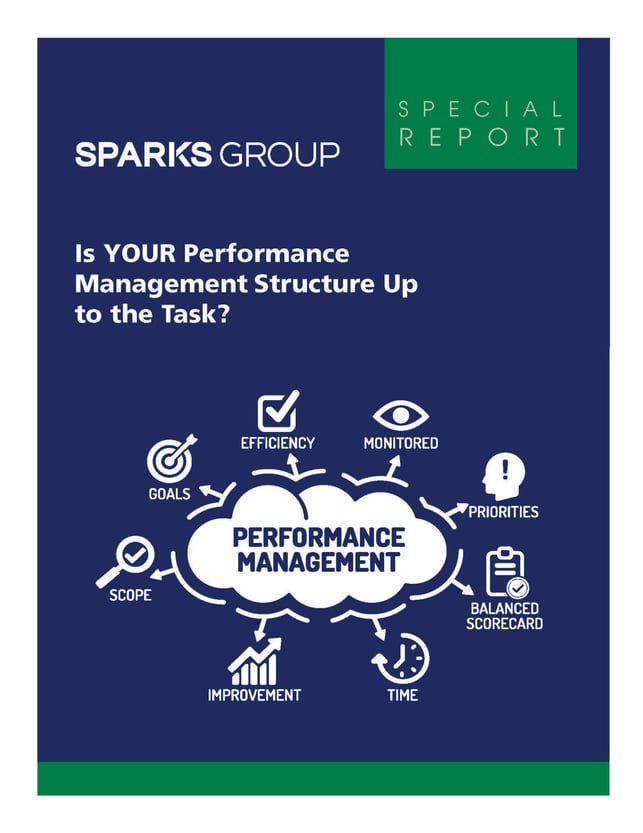 Is Your Performance Management Structure Up to the Task?
Organizations that have an effective Performance Management Program have a leg up on the competition for developing and retaining their most important asset-their people!
But what does an effective program look like? In this eBook you will learn how to develop and implement a Performance Management Program that successfully assesses an individual's motivations, growth, and work ethic, and ensures that they are placed, promoted, and paid commensurate with their abilities.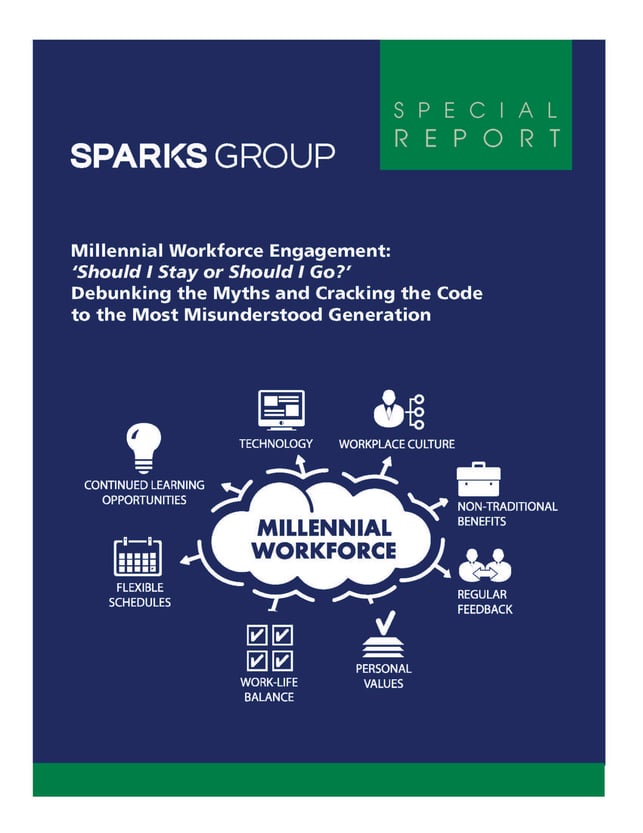 Millennial Workforce Engagement: Debunking the myths and Cracking the Code to the Most Misunderstood Generation (eBook)
Human Resources professionals regularly face questions on how to work with Millennials, how to engage them, get the most of their talents, and keep them motivated to give their best each day.
Download our free report of top tips to consider when confronting these important issues in your own organization.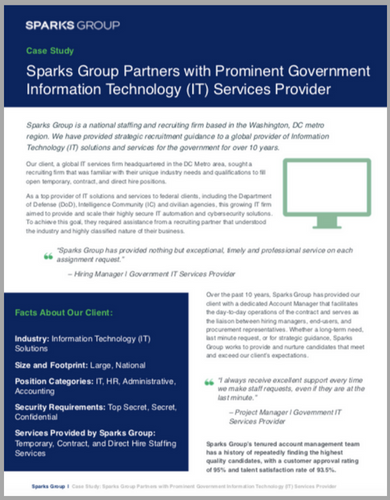 Sparks Group Partners with Prominent Government Information Technology (IT) Services Provider
For 10 years, Sparks Group has partnered with a global provider of Information Technology (IT) solutions and services, providing recruitment guidance and services to their government divisions including the Department of Defense (DoD), Intelligence Community (IC) and civilian agencies.


In this case study, you'll learn how:
Sparks Group became an extension of the IT Firm's HR team and provided strategic guidance and recruiting assistance to recruit the most qualified candidates for their open IT positions.
How this IT service provider was able to fill open positions 3 weeks faster than the national average in partnership with Sparks Group.
How this partnership demonstrates Sparks Group's ability to consistently find the highest quality IT candidates for its clients,

with a customer approval rating of 95% and talent satisfaction rate of 93.5%

.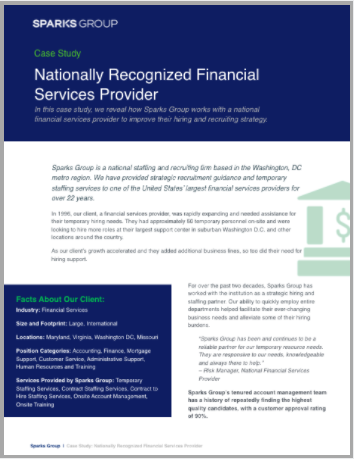 Case Study: Nationally Recognized Financial Services Provider
Through their partnership with Sparks Group, a nationally recognized financial services provider was able to quickly hire high-performing team members to facilitate their ever-changing business needs.


In this case study learn how Sparks Group helped:
Reduce the time-consuming burden of hiring

Rapidly fill roles in various departments: accounting, finance, mortgage support, customer service, administrative support, human resources and training

Facilitate long-term growth by keeping headcounts at a consistent level


Blogs - Top Tips for Job Seekers and Employers
Sparks Group Candidate Blog